The Journey of SIM and eSIM: Navigating Device Entitlements in the Digital Era
Andreas Morawietz, Global Head of Portfolio Strategy Software & Solutions at G+D, and Gary Waite discuss SIM and eSIM technology, G+D and NetLync's partnership, and the challenges of device entitlements in the digital world. Andreas offers insights into carrier complexities, emphasizing the importance of innovative solutions.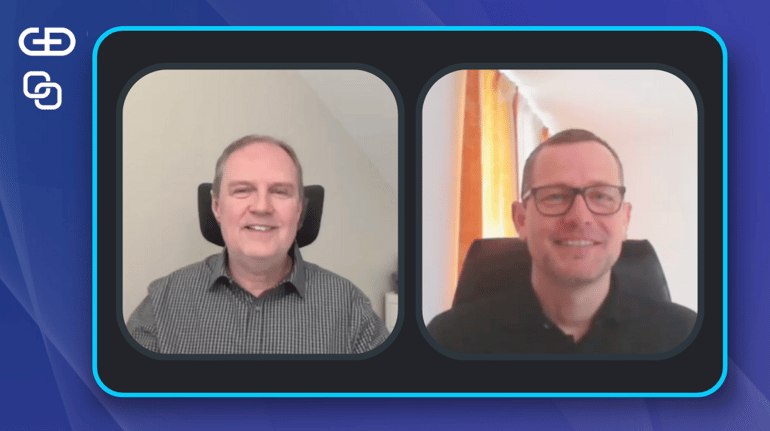 In this video, Andreas Morawietz, the Global Head of Portfolio Strategy Software & Solutions at G+D, and Gary Waite not only talk about the evolution of SIM and eSIM technology, but also G+D and NetLync's Partnership and Its Impact on the Industry.

But it doesn't stop there. They also explore the challenges surrounding device entitlements in today's digital world. Andreas provides valuable insights into the complexities and hurdles faced by carriers, highlighting the need for innovative solutions.


Andreas, can you please tell us about yourself?
Andreas Morawietz: I'm Andreas Morawietz, working at Giesecke+Devrient in Munich for over 22 years. In 2006 and 2007, we discussed the high-speed interface to eSIM, which initially sparked concerns about the limited 1MB memory. I focused on developing the solderable SIM, crucial for the automotive industry due to its resilience to vibrations. In response to industry needs, we created a solution that separated hardware logistics from software and subscription credential logistics. Since 2009, I've been dedicated to eSIM management, promoting its role in the digital world. Currently, I have a global responsibility for G+D's software and solution strategy, overseeing remote services, SIM device management, eSIM management, and credential management across various sectors like consumer devices, automotive, IoT, and manufacturing.
Can you share G+D's role in the SIM industry and its evolution to eSIM technology? What is the current state of affairs, and what can we anticipate in the consumer world moving forward?
AM: In 2009, we embarked on the journey of eSIM management, collaborating with Telefonica and Vodafone. This collaboration allowed us to address the requirements of both mobile network operators (MNOs) and the SIM industry, ensuring highly secure digital SIMs.

In 2011, we achieved a significant milestone by demonstrating the first live eSIM download, working with MNOs like AT&T and Vodafone, as well as device and tablet vendors, and even integrating with competitors to emphasise interoperability.

Currently, our eSIM management environment serves approximately 260 MNOs, with over 120 million eSIM downloads to mainly consumer devices. Our expertise, motivated teams, and TSMA-certified data centers globally enable us to deliver exceptional value and experiences to our customers.

Looking ahead, we recognised the need to accommodate the exponentially growing number of devices, especially in the consumer and IoT sectors. To address this, we collaborated with TSMA and developed the SGP.22 specification for consumer use cases, which has also proven adaptable for IoT scenarios (SGP.32 specification). This suite of specifications ensures high security while supporting a large volume of devices. The potential scale of eSIM-enabled smartphones and connections is estimated to reach 850 million by 2025 and 6.5 to 6.7 billion by 2030, according to GSMA intelligence. To realise this growth, cooperation, suitable technologies, and a seamless device/user journey are crucial. Alongside eSIM management, the Entitlement Service plays a vital role in properly provisioning devices and backend systems within the eSIM management process.

With regards to device entitlements, some carriers have them, but not all. New use cases, particularly for eSIM-only devices, continue to arise. What challenges do you foresee in the entitlements ecosystem?
AM: One of these challenges is the lengthy project timelines required for implementation, testing, and commercial availability. Complex commercials also exist in the current business landscape, which can be simplified and streamlined through digital solutions. Additionally, the emergence of new devices, wearables, and consumer IoT devices introduces further complexities.

To address these challenges, we have devised an innovative solution: enabling carriers to onboard themselves more efficiently, adopting a developer-centric approach, seamlessly testing and integrating new use cases, and simplifying the commercial model. This innovative thinking has led us to introduce the AirOn360 entitlement service, initially focusing on Apple devices and supporting use cases such as voice over IP, multi-SIM, voicemail, 5G, eSIM activation, and Apple Watch support. However, this is just the beginning, as other specifications like TSMA TS.43 and the entire IoT use case could also benefit from an entitlement service in the future.


It's a pleasure for NetLync to partner with G+D on this Enitltment solution. Can you explain more about how that partnership works? And what makes AirOn360® ES different to other entitlement solutions already available in the market?

AM: Working with highly motivated teams is always a pleasure and a fundamental aspect of making ideas successful. There is excellent alignment between both companies in terms of delivering value to our customers. For instance, our offering, AirOn360® Go+, enables customers to commercially implement eSIM management within 4 to 8 weeks. Similarly, with the AirOn360® entitlement service developed in collaboration with NetLync, we have simplified the onboarding process for MNOs and carriers.

Let me briefly outline the steps to prepare for the entitlement service. First, sign up for a free trial and select the desired use cases, such as eSIM quick transfer, 5G, or Apple Watch support. You will receive a comprehensive API specification to implement in your back-end system, and immediate testing and validation are possible at this stage. Clear feedback from the service will guide you on any necessary adjustments or API calls. Once development is complete, you can upgrade to production accounts, certify the use cases, and launch the service to your customers.

As the iPhone 14 in the US is an eSIM-only device, the entitlement service, particularly the eSIM quick transfer use case, provides a fast and efficient solution for achieving eSIM readiness and a shorter time to market.


---