eSIM and Digital Customer Experiences in the Telecom Industry
An in-depth look at how eSIM creates digital customer experiences and how mobile operators can benefit.
What are digital customer experiences
If you've ever visited a company's website, interacted with them on Facebook and Twitter, or downloaded their app, you've had a digital customer experience. This may seem obvious for many industries, but you may be surprised to learn that many companies are still doing things manually or face-to-face, regardless how "high-tech" that industry may be.
Today there are dozens of different examples of digital customer experiences. Some of the most common types of experiences include:
E-commerce and purchasing online
Interacting with companies on social networks
Support through messaging apps and AI-powered chatbots
Onboarding through a mobile app
Buying goods and services with a mobile payment method
Companies worldwide have long recognized this shift towards digital customer experiences and its benefits, whether opening new markets and opportunities, reducing costs, or differentiating from the competition. Where we start to see change is in the adoption of new, enabling technologies and the execution of digital strategie
How digital transformation is driving customer experience
Evolutions in technology drive innovation and are responsible for digital experiences. All the digital customer experience examples mentioned earlier rely on some fundamental technologies like internet access, a PC or smartphone, a digital identity, or digital payment methods.
A prime example of how these technologies have created a successful digital customer experience is by looking at the ride hailing and food delivery industries. Both would not be possible without the combination of smartphones, cellular networks, and mobile apps. Today the ride-hailing or ride-sharing industry is predicted to reach a value of USD 230 billion by 2026, and global online food delivery to reach USD 192 billion in 2025.
It's not enough for these technologies to simply exist. They must also be accessible to much of the population, or more precisely the target customer audience of a given industry and company.
The GSMA reports that by 2025 there will be 5.8 billion unique mobile subscribers around the world, or roughly 71% of the global population. 80% of connections will be through a smartphone – the device required to make many digital experiences possible. Therefore, by 2025 there will still be hundreds of millions of people who are unable to tap into the digital, mobile economy.
As technology evolves and reaches a wider, global audience, so too will the digital customer experience. Through the ubiquity of connected devices and cellular networks, companies will be able to reach customers through a variety of different channels and offer their (new or existing) services.
Ultimately, it's about meeting the customer where they are, rather than forcing the customer to you. In other words, offering your services 24/7 through the web or a mobile app as opposed to a physical retail store open only 9-5.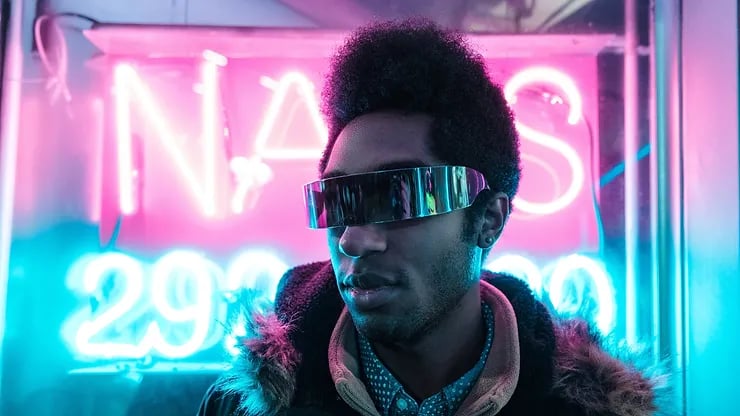 Digital experiences and the impact of COVID-19
Digital transformation and digital customer experiences were well underway long before the COVID-19 pandemic; however, it was the pandemic that accelerated the trend for many industries.
In October of 2020, McKinsey surveyed C-level executives and found that digitization of customer interactions had jumped to 58% in July 2020 from 36% in December 2019 – a 22% increase in just 7 months.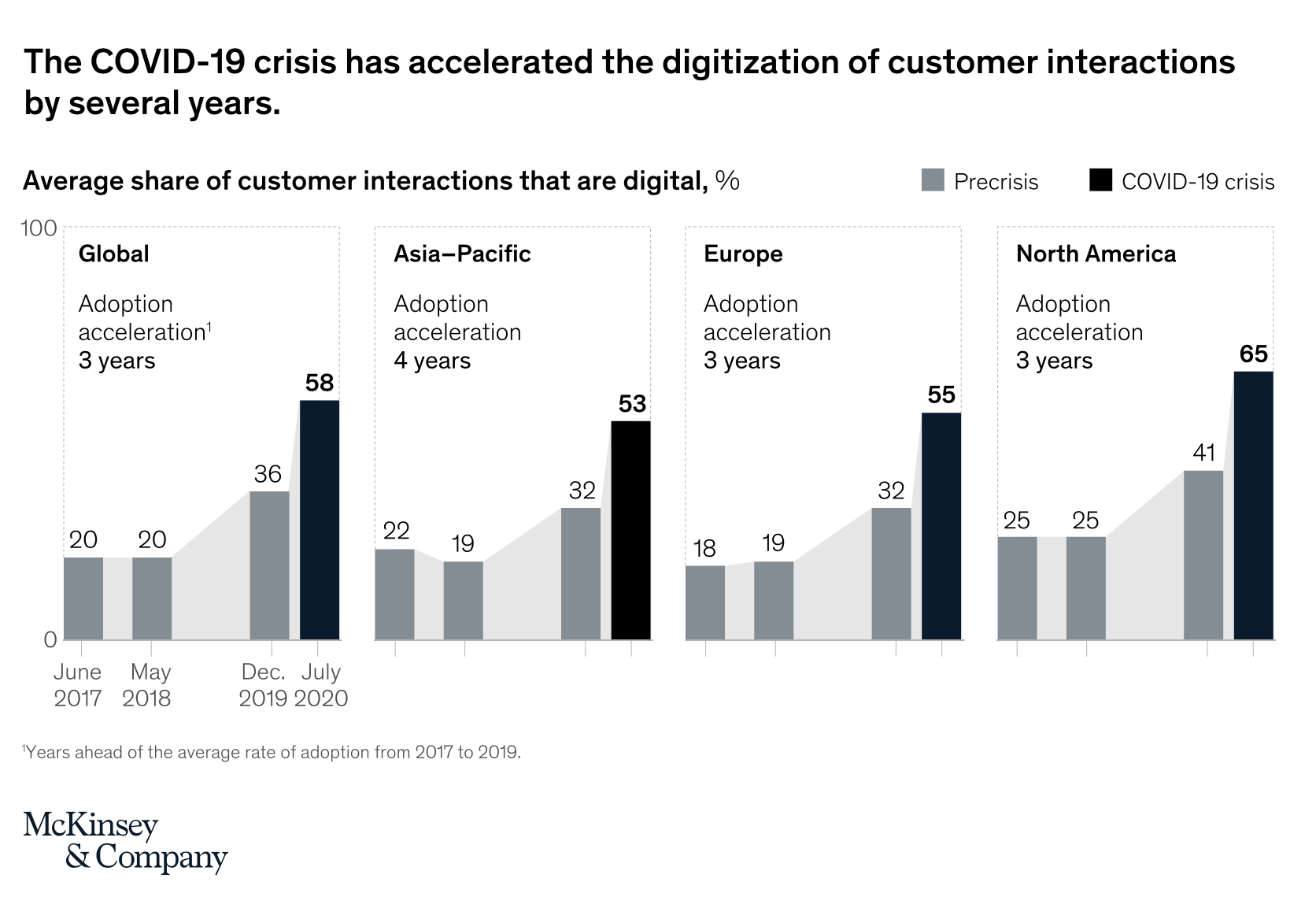 The survey then goes on to state that "digital adoption has taken a quantum leap at both the organizational and industry levels."
The telecom industry was impacted, like many other industries, by lockdown restrictions and the closure of physical stores. In Italy, number porting – an indicator of switching carriers and therefore customer onboarding – had declined by two-thirds at the start of the pandemic. Similarly, devices sales in China had declined by 30% month-to-month. As a result, many were unable to activate new subscribers simply because their customer onboarding process was not digital and relied on in-person interactions. Operators that were already offering digital onboarding were less impacted and continue onboarding new customers.
Once the pandemic is over, will things return to how they were before? It's unlikely.
Businesses everywhere are already reaping the benefits of a shift to digital, whether it's from remote work and more efficient collaboration across teams or digitizing their customer journeys.
Consumer expectations for a touchless, health-focused experience will also last long after the pandemic is over which means that digital channels will remain a key focus for telecom and other industries alike.
What are digital customer experiences for mobile operators
Mobile operators can digitize much of the customer journey, from onboarding to customer support, and activation of new devices or services. Let's look at some of the key customer experiences that have gone digital.
Traditional Experience
Digital Experience
Activating cellular service
• Physical SIM card
• Purchased in-store with assistance from a representative
• Limited to business hours
• eSIM
• Purchased online or on-device
• Available 24/7
Customer onboarding
• Paper contract
• Physical signature
• Manual KYC checks on identity documents
• Done with representative
• Digital contract
• Digital signature
• eKYC checks on identity documents
• Option to use digital identity from a trusted third-party
• AI-based biometric check
• Self-serve
Customer support
• In-store (limited to business hours)
• Phone
• Email
• Live chat
• Omnichannel support
• Community-based support
• AI-powered chatbots
Plan management
• Separate plan per device
• Separate account & plan for multi-play operators (wireless, cable, broadband, etc.)
• Multi-device plans
• One account across all services and devices
• Self-serve management of services and devices
• Greater bundling and personalized plan offers
How eSIM creates digital customer experiences
You can see already how eSIM fits into the digital customer experience. By simply transitioning from a separate, physical SIM card to one that's embedded and digital, you immediately remove any hurdles around SIM card production and logistics – there's no longer anything to insert into the end-user's device.
eSIM also creates new digital experiences by enabling OEMs to embed cellular connectivity into new devices and create new use cases for their users.
Let's look at some digital customer experiences created by eSIM:
Out of the box connectivity
With eSIM, users can connect their device immediately after purchasing. There's no longer a need to purchase a separate SIM card and have that delivered along with the device. For OEMs this also streamlines the production process and the logistics of shipping batches of devices with specific SIM cards based on the country or region.
On-device activation
Activating a cellular plan directly on the device without having to rely on a sales representative or a web-portal is another key benefit to eSIM.
When Apple first introduced eSIM to its cellular iPad line-up, users could choose from a list of operators available in their country and purchase a plan all without having to connect to Wi-Fi – the setup used a bootstrap cellular connection available globally. Operators would load their plans into a product catalogue where users could then browse through a web portal in the Settings app.
Even for mobile operators that support eSIM today, activation is typically done with a QR code. The QR code is sometimes printed on a physical voucher and shipped to the customer like a physical SIM card. Or the QR code is displayed on a screen and the user must scan it with the eSIM device they want to activate.
This common scenario does not truly embrace the digital potential of eSIM and on-device activation. To offer true on-device activation with eSIM, operators can add the functionality to their own eSIM supported carrier app.
Multi-device connectivity
The eUICC is the hardware component of eSIM technology and is a fraction the size of a physical SIM card. As such it enables new form factors and new types of devices to be connected to cellular networks. The most popular example of this is with smartwatches like the Apple Watch LTE or Samsung Galaxy Watch. The Apple Watch Series 6 packs cellular connectivity along with a wide range of other sensors into a tiny 40mm case – this would not have been possible with a physical SIM!
OEMs will soon release other wearables and devices that feature cellular connectivity with eSIM. Read our post "A Complete List of Devices that Support eSIM" to keep track of the latest eSIM devices available today.
Continuity across devices
Users should have a seamless experience across all their connected devices, regardless of whether they have a phone, watch, tablet or PC.
For example, if your phone and watch didn't synchronize which calls or messages you'd responded to, or if each device had their own phone number and your contacts had to save both of those numbers to their address books – that would be a terrible customer experience.
eSIM brings with it new network features that enable continuity across devices. Multi-SIM ensures that you can use the same phone number on multiple devices. VoLTE (Voice over LTE) gives you the ability to send and receive calls over a data connection – or with data-only devices.
Digital distribution
Mobile operators today distribute their SIM cards to thousands of retail locations across the globe. There are over 6 billion SIM cards produced each year – many of them destined for a warehouse or store and many of those will never be used.
eSIM makes this entire supply chain process digital. eSIM Profiles can be generated in batches and sent to a mobile operator's Subscription Manager (SM-DP+) instantly or generated in real-time and on-demand. Once loaded into the SM-DP+, operators can distribute Profiles directly to any eSIM-enabled device around the world.
eSIM also unlocks additional distribution opportunities for mobile operators, who can now form new partnerships and distribute eSIM Profiles to their customers. Imagine a travel booking website offering cellular plans for a traveller's destination country, or a sports team offering fans a 5G data plan while attending a match at the stadium – all directly on device without any supply chain overhead.
Benefits of Digital Customer Experiences and eSIM for mobile operators
So why should mobile operators look to eSIM for delivering exceptional digital customer experiences?
Digital customer experience is key to growth for the telecom industry. In a recent survey, 87% of customer experience, marketing, and analytics professionals said that customer experience is important to brands. And a Walker study found that at the end of 2020, customer experience overtook price and product as the key brand differentiator.
When it comes to customer acquisition, digital onboarding through a mobile app or other digital channels means that operators can acquire customers anywhere, anytime. Where eSIM really enhances this scenario is by enabling instant connection to the cellular network. In today's competitive business landscape, instant gratification is key to delivering a strong customer experience and avoiding delays in completing the onboarding journey can make all the difference in the world.
Consider that mobile operators can use eSIM to offer instant network connectivity to potential switchers with a free trial offer, inbound international travellers, or new pre-/post-paid subscribers to deliver a position experience.
And by shifting more towards eSIM and digital channels, operators can significantly reduce costs. Costs incurred by producing and distributing physical SIM cards as well as managing physical retail stores and staff. In the banking sector, banks that acquire customers through digital channels do so at costs two to three times lower than if they were acquired through physical channels.
Another key benefit of eSIM for mobile operators is increased customer loyalty. When eSIM was first introduced to the industry many were hesitant to adopt it because of fears that it would enable consumers to easily switch providers. These fears are overshadowed by the gain in customer acquisition and customer loyalty brought on by meeting the consumer demand for multiple connected devices such as with smartwatches and tablets. By offering more devices and flexible plans that accommodate multi-device customers, operators significantly strengthen customer loyalty, increase ARPU, and reduce overall customer churn.
UNITE: An eSIM and Digital Experience Platform
At NetLync we are hyper focused on eSIM and enabling digital customer experiences for mobile operators.
Our UNITE Platform is a complete eSIM management platform that can power many of the digital user journeys outlined in this article – from digital onboarding to distribution to out-of-the-box connectivity.
We strongly believe in the power of eSIM and its potential to connect every person around the world, across all their devices.